The Favorite American of Iraq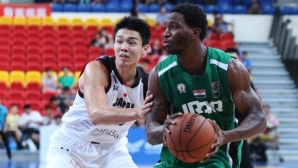 6.12.2017
When Albert Jackson first tried to pin his friend Demaraio Mayfield to play professional basketball with him in Iraq, he mentioned the money, not the explosion.
In the summer of 2015, Jackson had just finished his first season with the Baghdad Oil Club. When the team asked him to find another American in order to reinforce the squad, Jackson immediately thought of Mayfield. The two were teammates for a season in Georgia, and he knew of his desire to prove himself as a pro, after not being selected in the Draft. Except the time he felt his hotel room shudder and heard shots as a result of a terrorist attack in the restaurant just below him, Jackson had no complaints about his season in Iraq. Most of all, it`s about the money around which the topic of conversation with Mayfield is turning. Americans can earn $ 20, 000, more than a month, as well as bonuses for wins and titles playing in the Middle East.
This is an opportunity to play at a high level - an opportunity that Mayfield may never get. Two years before this phone call, the former top talent was arrested on charges of organizing armed robbery, and this completely derailed the basketball future and his life.
Now, three years later, he has dual citizenship - the US and Iraq, and is a basketball icon in a war-torn area.
Mayfield grew up in Franklin County, Georgia, 35 minutes from the campus of his future university. So when Denise Felton left Georgia University coaching in January 2009, Mayfield did not choose to continue his career elsewhere, though she had offers from Auburn, Florida State and South Carolina.
Georgia`s 1 player for 2009 almost did not smell terrain in his rookie season. In fact, he stays in the team then because he is friends with some of his teammates, one of whom is Jackson and because he falls in love with a student named Jasmine. But before the end of his debut season he decides to transfer. Mayfield reveals that he had a bid from Shaka Smart to play for Virginia Communelle, but he is about to become a father, and he prefers to stay close to Jasmine and choose Charlotte. The next two seasons are his strongest as a college basketball player, but Alan Mayer often goes into trouble, and he is punished three times before his expelled in 2013. Then he makes the biggest mistake that turns career development - and his life.
In May 2013, he was arrested, along with former Georgia footballer Ricardo Crowford. They are in a car that is in a neighborhood known to be the object of theft, and police officers find them with masks, gloves and weapons.
What did I think then? I was put in a situation of life or death. The cops came to the car with their pistols removed. It could have been a bigger mistake to be shot. I almost lost my family. This day will forever be in my mind, Mayfield says now.
Read all sport news