Boston turned Sikors in the sight of Sir Alex in London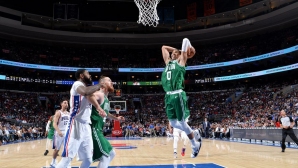 12.01.2018
Boston turned Philadelphia to a 114:103 victory, although it was 22 points behind in a match at O2 Arina in London. In the eyes of many local celebrities and football stars including Eden Hazard, Cristiano Eriksen, Pedro, Ector Beierin, and legend Sir Alex Ferguson, the two teams have been playing for a half time, with Celtics dominating in the latter being extremely serious.
By the time of the break, Shexers had the initiative and retired with an advance of 57:48. In the third part, however, the clovers played and repaired, winning the period with 37:22. By the end of the match, they continued to be the more active team on the pitch and increased their advances. Keary Irving finished the match with 20 points, 7 assists and 6 rebounds, and this was the eighth NBA game played in England.
Jaylin Brown added 21 points, Marcus Morris finished 19 and 8 rebounds. For Philadelphia, JJ Radic scored 22 points, after which three threes, but the 76th were unable to find a counter to the best defense of the League during the season. Boston extended his series to seven away games.
Read all sport news