Master goals took Werder out of the danger zone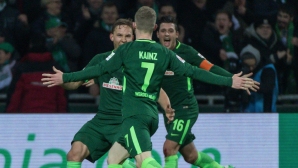 12.02.2018
For eight days Werder (Bremen) managed to get out of the dangerous zone in the Bundesliga and is already 3 points above the 16th Mainz 05. This helped the 3:1 success over Wolfsburg in the last round of the 22nd round. Vezerstadion enjoyed a strong performance from the hosts who took their opponent in the first half. The Bremen, however, managed to score only two goals for those 45 minutes, missing several others and once struck a beam. Ludwig Augustine opened with a head in the 4th, and in the 40th Florian Kainz made the best performance in the whole match, increasing the lead with a fine shot.
Only 4 minutes after the break, Wolfsburg returned to the fight with Paul Werhaach, who had a shot after goalkeeper Jarjie Pavlenka had saved his strike from the white point. Kainz, however, did not think his team was going to miss the victory in this special day for him and in the 72nd minute he made a 3:1 with another beautiful shot.
The wolves are now just a point in front of Werder, and their situation is also not flourishing.
MATCH STATISTICS
CLASSIFICATION
Win a VIP pass and watch the FIFA Cup live at 14. 02 at the Paradise Center. Take part here!
Read all sport news