Wenger:Our spirit and desire were on the level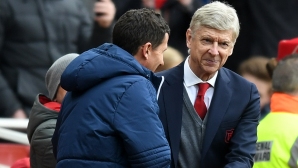 13.03.2018
Arsene Wenger, who returned his smile, was unhappy after Arsenal`s 3-0 victory over Watford. It was a tough game like everyone else in the Premier League, `the London manager said. - In general, however, our spirit and desire were on the level. This spirit has protected us from trouble. Arsenal led 2-0 when guests missed a penalty. If Watford had made his punishment, we could have trouble because we were a little tired, `Wenger said. `But we did not allow that, and the boys deserve good words. Rescuing the penalty was great, and at the same time we handled the static positions that were the chance of the opponent today.
The Frenchman particularly greeted Peter Cech, who today recorded a 200 game without a goal in the league.
On Thursday, the balls won 2:0 against AC Milan and the Italians won the match against the Italians on March 15th.
Read all sport news