Sigurdsson out for a few weeks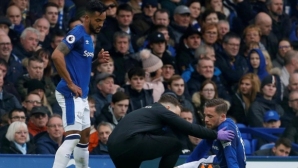 13.03.2018
Midfielder Gilli Sigurdsson will be out for several weeks due to a knee injury. The 28-year-old Icelander suffered a trauma in the caramel match against Brighton from the Premier League last Saturday, winning 2-0.
`It will be out of play for a few weeks, but consultations with specialists are needed to clarify the exact period of his absence, ` Everton said.
Sigurdsson will participate in the World Cup 2018 with Iceland. The first meeting of the Icelandic team from the group stage of the tournament in Russia is against Argentina on June 16th.
The midfielder joined Everton in Swansea last July for a
Read all sport news